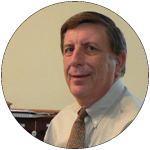 Email: directorofmusic@christs-oreland.org
Office phone: 215.886.4612 ext. 8
We are very fortunate to have many talented people in our congregation so willing to contribute their talents in a number of ways to support our music program. Whether it be singing in one of our choirs, participating in our Handbell Choir, or playing piano, guitar, flute, brass, and other instruments, we continue to be blessed by the various ways we are able to incorporate music into our worship. One of the challenges as Director of Music is to find opportunities to utilize those gifts.
Our Chancel Choir meets weekly during the program year, rehearsing Sunday mornings at 9:10 am. In recent years, a highlight has been a Service of Lessons and Carols prepared for Advent/Christmas. Our choir sings a wide range of music, from traditional and the more "classic" anthems to a number of contemporary pieces, several of them with an accompaniment from a CD. Our Handbell Choir adds to our worship once a month, playing hymns and unique anthem arrangements. We continue to seek ways to have our children learn new songs and sing during worship. We recently formed a Family Choir for parents and their children. Children also share songs that they learn during Sunday School.
If you would like more information on our music program or are interested in becoming a member of any of the choirs, please contact me.