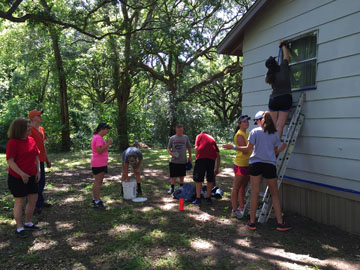 Each summer youth and adult chaperones travel to serve impoverished communities near and far.
In 2016, 14 youth and adults traveled to serve in the small Gulf coast town of Bayou la Batre, Alabama. The main livelihood of Bayou has been fishing and shrimping. The town was very hard hit by two major disasters in the past 10 years. In 2005 Hurricane Katrina wiped out much of the town. Then, in 2010, the BP oil spill devastated the seafood industry there. Even before these catastrophes, 25% of the residents were living in poverty. Now, a great many of the town's 2500 people depend on a local food bank for sustenance.
We spent the week of July 3-9 there, painting Ms. Beverly's house, running a Kids Club, and visiting with residents at a nursing home in Bayou la Batre. It was a very rewarding trip on all accounts!
Come hear all about it at Mission Sunday on September 25th at both the 8am and 10:30 am services!